Thief (2014)
Grade: A
Thief (2014) includes options to disable the hud.  I found a page explaining how to improve the fade out if you want to keep the hud, but not have it always visible, quoted from this site:
http://www.reddit.com/r/Thief/comments/1yvt2h/thief_2014_fixing_the_timed_fade_option_for/
So I've played a couple hours of the new Thief, and so far have been very pleased with the options for UI customization.
They even let you choose how you let HUD elements appear, including a "Timed Fade" option.
At first I thought this option was broken, as my HUD elements never seemed to actually fade, when I realized they only fade to about 50% opacity, which in my opinion is nearly the same as just leaving them on. I expected them to fade out completely.
I found an easy .ini tweak that may please those that like immersion, but don't want to turn off the HUD elements permanently. It may seem obvious to those who usually delve into the config files, but I wanted to post it here for anyone who doesn't.
Browse to ...\SteamApps\common\Thief\ThiefGame\Config
Backup all the ini files somewhere, just in case.
Open "ThiefUI.ini"
Change the following settings from their defaults to the below values (use ctrl-f if needed, as they are not necessarily near each other):
mInvSelectionAlphaMin=0.0f;
mHealthAlphaMin=0.0f;
mFocusAlphaMin=0.0f;

Save
No in-game settings override these, so no need to set the file as read-only
Now when the "Timed Fade" option is selected in the in-game HUD settings, those elements will fade away completely when not being altered/used.
Following screenshot found in an online search.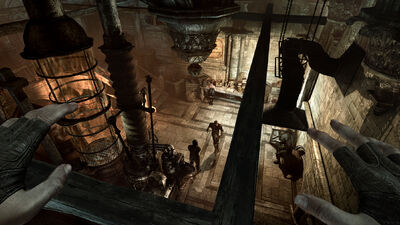 Community content is available under
CC-BY-SA
unless otherwise noted.