Halo Combat Evolved
Grade: D-
DIsabling the hud requires a mod that overwrites parts of game resources.  You'll need to download Xhzjang's No Hud Mod V1.5 (Halo Video Kit) HaVoK or HVK (those are other names for it).  Here is the website where you can download it:
http://old.halomods.com/forums/viewtopic.php?f=97&t=3947
You'll also need the program ppf-o-matic3 to apply the patch, which you can find here:
http://www.afterdawn.com/software/cd_dvd/iso_tools/ppf-o-matic.cfm
You can also download them from my Skydrive here: http://sdrv.ms/10VcQRt
The nohud mod for Halo is named: Halo-nohudpatch.zip
The file for ppf-o-matic3 is named: ppfomatic_version_3.0.zip
As always, while I scan the files I download for viruses, I had to provide alternate links as the original locations where I downloaded these files no longer exist.  So, scan the files you download.  I like Virustotal.com for scanning files.  I've scanned the files on my Skydrive, so recommend those first versions first, but it doesn't hurt to scan them again.
You will run ppf-o-matic3 to apply the Basic No Hud Mod - Just apply the file nohud_bitmaps.ppf to your bitmaps.map file in the Halo/Maps directory.  The zip file includes instructions.  As always, make a backup of the bitmaps.map file or you won't be able to undo your changes.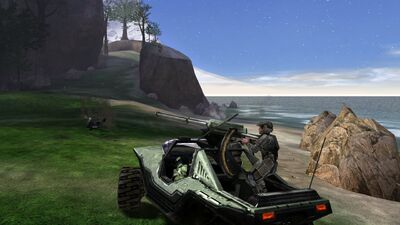 Community content is available under
CC-BY-SA
unless otherwise noted.